Ocean Riviera Paradise: Where Luxury Meets Caribbean Beauty
Are you in search of an idyllic retreat in the heart of Cancun?
Look no further than Ocean Riviera Paradise, a destination that will transport you to a world of luxury and natural beauty. Whether you're planning a family vacation, a romantic getaway, or a trip with friends, this all-inclusive resort provides everything you need to create unforgettable memories.
Welcome to Ocean Riviera Paradise
Located in a prime position along the white sandy beaches and crystal-clear waters of the Caribbean, Ocean Riviera Paradise is the perfect place to disconnect from daily stresses and immerse yourself in a paradise-like setting. This five-star resort offers you a unique experience of hospitality and comfort, from its stylish rooms to its world-class facilities.
Discover Luxury in Every Corner
Upon entering Ocean Riviera Paradise, you'll be welcomed by an atmosphere of relaxed sophistication. Each room is designed with attention to detail, providing you with a first-class accommodation experience. From oceanfront suites to rooms overlooking lush gardens, every option is thoughtfully designed to ensure your comfort and satisfaction.
Unparalleled Culinary Experiences
The culinary offering at Ocean Riviera Paradise is an experience in itself. The resort's restaurants provide a wide range of dining options, from local dishes to international cuisine. Whether you want to enjoy fresh seafood by the sea or explore authentic Mexican flavors, each meal will be a feast for your senses.
Explore and Relax
In addition to its stunning beaches, Ocean Riviera Paradise offers a variety of activities to keep you entertained during your stay. From thrilling water sports to relaxing spa sessions, there's something for everyone. And for those looking to explore the charms of Cancun, Cancun Paradise Transfer is here to make your adventures even more exciting.
Cancun Paradise Transfer: Your Trusted Partner
When it comes to traveling around Cancun and its surroundings, Cancun Paradise Transfer is the reliable companion you need. With a focus on comfort, safety, and efficiency, this brand is dedicated to providing you with worry-free transportation from the airport to Ocean Riviera Paradise and other popular destinations. Let their team of experts take care of the logistical details while you relax and enjoy the journey.
Frequently Asked Questions about Ocean Riviera Paradise Hotel
How much does it cost to stay at Ocean Riviera Paradise Hotel?
Prices for a stay at the Ocean Riviera Paradise Hotel may vary depending on the season, room type and special offers available at the time of booking. For up-to-date information on rates and availability, we suggest you visit the hotel's website or contact them directly.
Where is the Ocean Riviera Paradise Hotel located?
The Ocean Riviera Paradise Hotel is located on the Riviera Maya at Avenida 10, Lote 1, Manzana 78, Predio Maria Irene, Playa del Carmen, Solidaridad, 77710 Quintana Roo, Mexico.
What is the name of the beach at Ocean Riviera Paradise Hotel?
The beach at the Ocean Riviera Paradise Hotel is called Playa del Carmen and is known for its crystal clear waters and natural beauty. Guests can enjoy the beach and sunbathe on this beautiful stretch of Caribbean coastline.
Book your escape to perfection
If you're looking for a getaway that combines luxury with the natural beauty of Cancun, Ocean Riviera Paradise is the ideal choice. From its exceptional accommodations to its world-class dining options, a unique experience awaits. And with Cancun Paradise Transfer at your disposal, your trip will be even more comfortable and stress-free. Get ready to immerse yourself in a paradise that will exceed your expectations.
At Cancun Paradise Transfer, we are here to make your trip to the Ocean Riviera Paradise easier than ever. If you want to know the best way to get to this amazing destination, don't hesitate to contact us via WhatsApp or by phone. Our team will be happy to provide you with all the information you need to ensure a worry-free transfer. Your paradise experience begins with us!
Nombre:Ocean Riviera Paradise
Ubicación: Is located on the Riviera Maya at Avenida 10, Lote 1, Manzana 78, Predio Maria Irene, Playa del Carmen, Solidaridad, 77710 Quintana Roo, Mexico.
Type of rooms:
Standard Rooms: Comfortable rooms with garden or ocean view options, available in king or two double bed configurations.
Junior Suite: Spacious rooms with integrated living room and balcony or terrace.
Swim-Up Suite: These suites feature direct access to a swimming pool from your private terrace.
Family Suite: Ideal for families, these suites offer extra space and special amenities for the little ones.
Presidential Suite: Luxury accommodations with multiple bedrooms, living room, dining room and other exclusive amenities.
Privilege Rooms: A premium option that includes additional services and access to exclusive areas, such as swimming pools and restaurants.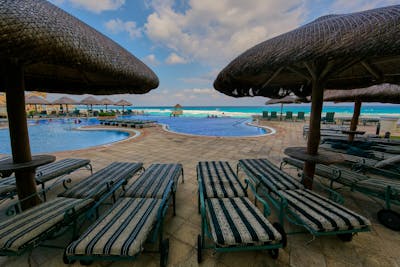 Crta. Federal Cancún Chetumal, km 296 Manzana 020 Lote 007-1,      77710 Playa del Carmen, Q.R., México
Cómo llegar al Ocean Riviera Paradise